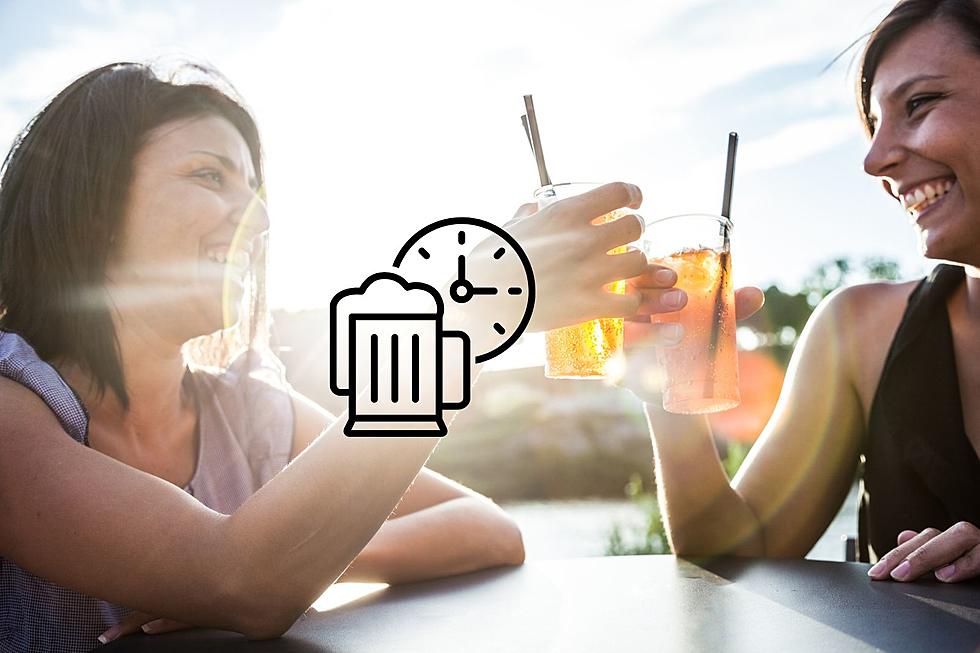 Happy Hour in the Wenatchee Valley
Photo Credit: Aly/Canva
Happy hour is looked forward to in the Wenatchee Valley, simply because there are so many awesome places to choose from! Let's take a look at what Yelp thinks are the top 10 picks!
---
Top 10 Restaurants for Happy Hour in the Wenatchee Valley (according to Yelp):
Rail Station & Ale House
"Great food variety of choices. Loved the tall booth a little dark inside but great atmosphere" - John P
RAIL STATION & ALE HOUSE - Yelp
---
McGlinn's Public House
"New menu is great!  They have an awesome building with history and experience.  Great tap selection." - Nick M
---
The 108 Lounge
"
The 108 Lounge has fresh made cocktails that you can't help but savor. The atmosphere is great for a get together with friends. The perfect spot for Friday night!" - Jan H
---
Tastebuds
"What an absolutely lovely place! Get the Loaded Nachos...they will not disappoint! Fresh and tasty!!! We also really enjoyed the bruschetta, twice! Hubby enjoyed the Old Fashioned. Daughter and I got a local red blend from Jones of Washington. Can't wait to come back!!!" - Darcy B
---
Stones Gastropub
"Had a fabulous experience with co-workers. Decent group of 8 went for dinner. Food was delicious and large portions for the price. Vast selection of brews and wine. Great place overall for either a group setting or a more intimate setting." - Adam R
---
Wenatchee Valley Brewing Company
"Always good beer! Tasty pizzas and I love being able to bring the dogs. I've even seen live music here, great place for a stop after the loop." - Colton S
WENATCHEE VALLEY BREWING COMPANY - Yelp
---
Bob's Classic
"Happy Hour has lots of choices. Our group had several people with different dietary requirements. They bent over backwards to make it work for us.
Special service and good food and drinks" - Jan H
BOB'S CLASSIC BRASS & BREW - Yelp
---
Shakti's
"Always one of my favorite restaurants. Wonderful food and great service. I had a lovely birthday dinner." - Andrea H
---
Joe's Log Cabin
"I came here on a Tuesday for happy hour. Great deal on beer and well drinks. Tuesday's special is steak! The steak was very good and cooked perfectly! It came with a side salad and a baked potato. Great service and nice place to grab a drink, eat and watch a game. There are pool tables and a dart board as well!" - Jason W
JOE'S LOG CABIN TAVERN & STEAK HOUSE - Yelp
---
Fire at Pybus Public Market
"Oh my gosh!! I ate the whole thing!!
The ham, fig & goat pizza (with added arugula before firing) is so delish!! My new fav!!" - Angela T
FIRE AT PYBUS PUBLIC MARKET - Yelp
---
What time is it? Gotta Be 5 o'clock Somewhere... Right??
---
Happy Hour WA, WA 98801 - Last Updated June 2023 - Yelp
---
Have You Visited Any of Washington's 7 Best Barbecue Restaurants?
Who doesn't like BBQ? I'm a HUGE fan of anything barbecued. Most people enjoy barbecue ribs, pulled pork, and chicken. There are several types of barbecue styles and flavors. If you want to roadtrip to some of the best BBQ places in Washington, you're in for a treat. Let us know which is your favorite. Are these the BEST BBQ restaurants in Washington?
---
7 Fun and Lazy Rivers To Float Down in Washington State
Are you looking for the perfect summer activity? Check out these seven lazy rivers in Washington state, perfect for a leisurely float trip. Grab your tube and get ready to explore
---
The Best 6 Rated Mouth Watering Steakhouses in Washington State
Are you a carnivore in search of the perfect steak? Look no further! Read on for our feisty foodie's guide to the best steakhouses in Washington State.