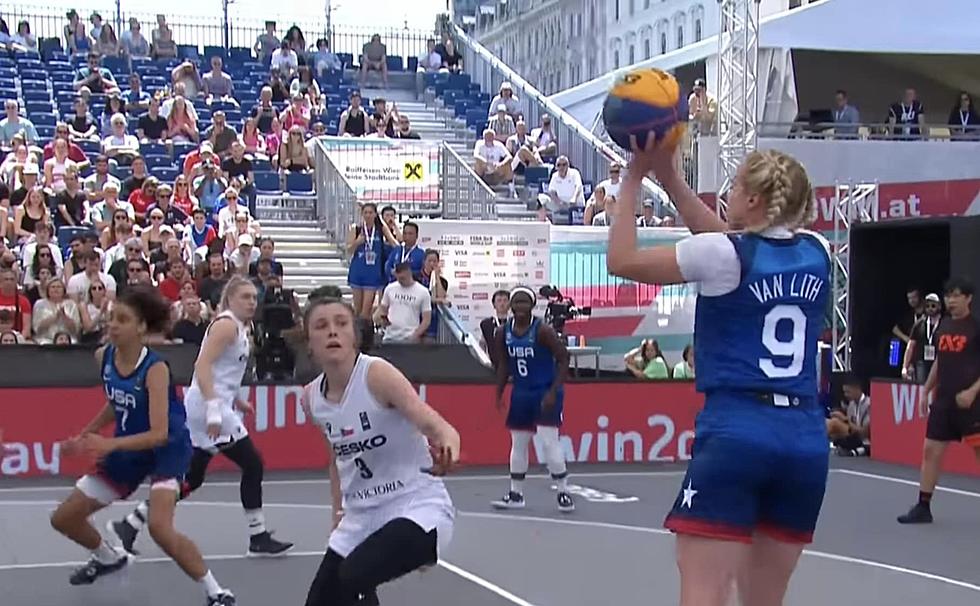 Hailey Van Lith & USA 3×3 Team Advance to Knockout Round
FIBA 3x3 (YouTube)
Hailey Van Lith & USA 3x3 2023 Team Advance to Knockout Round
All five teams in the USA's Group C, needed to win one or both of their games today, to move on to the knockout stage.
Mongolia started the day winless in group play and needed a big win over the USA to keep their hopes alive. They played the Americans tough, but the US 3x3 team carved out a tough 21-18 win in the early game. In that match, Hailey Van Lith led all scorers with 11 points. Van Lith shot 7 for 16 from the field, including 0 for 4 from beyond the 2 point line. With a tough game that needed some clutch free throws: HVL delivered for the US - a perfect 4 for 4 from the line. 
After game one, the US Women got a couple of hours to rest and recharge, then go head to head with the undefeated, first place Czech Republic. 
The USA vs. The Czech Republic game started out even The US held a 7-6 lead, with a little more than halfway through the 10 minute match. The Americans finished strong and never looked back, with a scorching 14-2 scoring tear. The US ended up beating the first place Czech Republic, 21-8. In this match, the Americans were led by Stanford's Cameron Lee Brink's 10 points. LSU Tiger's Hailey Van Lith scored six points, including 4 for 10 shooting from the field. HVL had the best long range shooting of any player in the game, going 2 for 4 from beyond the 2 point line. 
Canada ended up taking first place in Group C with their clutch wins over Mongolia and Hungary. The Canadian women earned the coveted play-in bye and won't have to play again until the quarterfinals, late Saturday afternoon.
The USA earned 2nd place and will wait and see who their opponent will be in the play-in round. 

The US will match up with the 3rd place team from Group B, early Saturday morning (June 3rd.) We'll find out who that will be, early Friday morning. The winner of this game will play a rested Austrian team, winners of Group A, playing great basketball in front of the vocal and loud home audience. 
---
Click this link to get FIBA World Cup 3x3 results, stats and stream the games - live in Vienna, Austria.
---
FINAL POOL STANDINGS for FIBA 3x3 2023 Women's GROUP C
---
1) CANADA  3-1 (19.0 points per game) #
2) USA 3-1 (18.8 points per game) *
3) CZECH REP. 3-1 (16.5 points per game) * 
4) HUNGARY 1-3 (14.0 points per game)
5) MONGOLIA  0-4 (14.0 points per game)
# - won group, earned a bye until the quarterfinals
* - qualified for the play-in round
INFO SOURCE: FIBA3x3.com
PICTURES: See Inside Taylor Swift's Stunning Manhattan Apartment
Taylor Swift's spectacular luxury apartment in Manhattan is currently for rent, and pictures show a property that is a lavish mix of historic and very modern.